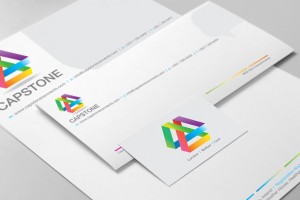 Case Study 1:
AN OVERVIEW OF A COMPANY REBRAND
(FROM LOGO DESIGN TO FULL CORPORATE IDENTITY APPLICATION ACROSS VARIOUS MEDIA)
MAY 2012 
View Case study – PDF (5.2MB)

»
---
Capstone engaged the team at Smudge in 2012 to assist with an online presence project, that drove a complete rebranding exercise, that we had received funding for from Enterprise Ireland. From the outset, Mick and Dee gave us a completely fresh, different but relevant outlook on what we should be focussed on. They put a huge amount of thought and detail into what for us is now an incredibly strong end product. We continuously get praise from clients, prospects and partners about the freshness and vibrancy of our imagery, collateral and website. Since the original project, we have retained Smudge Design as marketing consultants for ad-hoc work that we require specialist expertise on, such as client events, online marketing campaigns and enhancing our proposition as it develops in line with what our clients purchase. They remain a pleasure to work with, exceptionally professional in what's delivered back to us and a team who certainly bring a fun element to every engagement!
Rob McGee – European Sales Director @ Capstone
Smudge Design delivered a terrific website for ITOA.  They approached the project with enthusiasm, interpreted our brief by ensuring they understood our business so that they could deliver the best creative and functional website solution for the association.  They added value by guiding our thinking so as to ensure that the site delivered and answered browser as well as members needs.  They were a pleasure to deal with a 'Can Do' attitude that ensured we delivered the site on time and  serve us well for the foreseeable future.
Ruth Andrews – ITOA (Incoming Tour Operators Association Ireland)
Smudge Design were an absolute pleasure to work with. They offer an extremely fast and friendly service and are always available to answer any website queries. Mick and his team create the most fabulous websites at affordable prices. I will continue to recommend Smudge Design to anyone looking for the perfect website!
Cat Lawlor – thecakecuppery.ie
Smudge Design has worked on a number of corporate branding and communication projects for clients of Root Marketing. Dee has a rare talent of blending creative design with functional requirements and making this process easy for the client. She is highly skilled, personable and client led. She consistently meets deadlines and budgets set. It is for these reasons that I will continue to work with Dee and Smudge Design
Fiona Barclay – Root Marketing
Dee is a pleasure to work with. She is very focused on the creative process and exceeded our expectations of the brief by creating a fantastic brand image/feel that we could emotionally connect to and identify with. I would recommend Dee to anyone looking for any graphic design work.
Rory Sturdy – founder, Ethical Sector Communications Ltd.
Dee is very professional to work with. She produces great work within tight deadlines and budgets. I would have no hesitiation in recommending Dee to other potential clients.
Tim Graham – General Manager Irish Services Montgomery. Exhibition & Event organiser
Dee and her team at Smudge Design produced two art publications for me when I was a resident artist with South Dublin County Council. Dee is an excellent communicator and problem-solver; managing her highly creative team with a free hand and garnering excellent results at a very competitive price. Dee handled printers, couriers and copywriters with a stern yet fair hand and has reaped the goodwill rewards of a personable and professional demeanour.
Fiona Delaney – Film & Web Video Production
Dee's work is creative, fresh and meets the brief every time. Her approach to every design job is well thought out and this shows through her concepts. I would be more than happy to recommed Dee for any design job where creativity and fresh thinking is key.
Vinnie Quinn – Camba.tv
Dee delivered a few designs for us (Ryder Cup at K-Club and Magazine designs), and I must say that all her work was impressive. She delivers with a personal passion, on time and better than expected. On top of that she is very nice to collaborate with, understanding our needs and requirements. Being structured and to the point with regard to the order, she also provides good value. Should you be looking for outstanding design work, call Dee!
Jon Doviken – Partner, Community Reborn AS
Boundless energy & enthusiasm along with a hard working and creative approach would sum up my experience of working with Dee @ Smudge Design. An ideal creative design & web partner offering great value and flexibility.
Tiernan O'Neill – Product Marketing Manager at Apierian